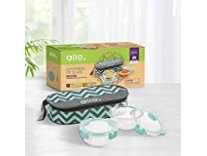 Allo FoodSafe Microwave Safe Glass Lunch Box with Break Free Detachable Lock | 450°C Oven Safe High Borosilicate | Office Tiffin with Chevron Mint Flat Bag | Set of 2, Round 390ml Rs. 640

1. BREAK FREE DETACHABLE LOCK – Now, never worry about lock/clip breakage as you can simply remove and re-attach the locks.
2. I AM FOODSAFE 100% BOROSILICATE GLASS – I am FDA certified & BPA free, as I never release any chemicals in your food. I am odourfree, stainfree, scratch-resistant.
3. I AM MICROWAVE SAFE – Enjoy your hot food by placing me in a microwave. Don't worry, like other containers, I will not release any toxic chemicals whatsoever into your food.
4. I AM 450°C OVEN SAFE BAKEWARE – Bake your favorite dish from Pasta to Lasagne and surprise your loved ones with food more delicious than a restaurant.
5. I AM LEAKPROOF- Like some other containers, I don't leak juices and gravies, ever.
6. I AM AIRTIGHT- I protect your food from everything, making it taste like it has just been prepared by being 100 % Airtight.
7. I AM MULTI PURPOSE- You can use me to carry your meal, store freshly cut fruits and vegetables, bake favourite dishes like Pasta, Lasagne, Brownie, store food in Freezer, heat your food in microwave
8. HAND REMOVABLE UNQUE SILICONE RING- you can easily remove my silicone ring with your fingers to clean any stains on it.
9. I AM GREEN- I am Eco-friendly, so help Mother Earth by using me.
10. I AM BEST FIT – 390ml, Dimension 13.8 x 13.8 x 6 cm can be filled with 1&1/2 glass of Milk . Ideal for Lunch Box for Office or Tiffin Box for School. Contents – 1 Lunch bag with 2pc 390ml container.
Steps On Getting This Deal Online:–
1. Visit the Deal Page here
2. Add the Product to Cart.
3. Sign-in or Register.
4. Update or Select your Shipping Details
5. Pay the Amount
6. Enjoy the Product!
(Hurry, Limited Period Offer)
Shipping Charges Rs. 40 extra on orders below Rs.499. Subscribe Amazon Prime to get Free Shipping on cart value below Rs. 499.