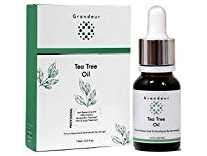 [Apply Code] Grandeur Tea Tree Oil for Skin, Hair and Acne Care 15Ml Pure, Natural And Undiluted Therapeutic Grade Essential Oil Rs. 136

1. PURE & NATURAL : Steam distilled from the leaves of tea tree plant (melaleuca alternifolia, a native to Australia), Ideal for use over skin and nail. Ideal for use over skin, recommended by most of the natural aroma therapists. Grandeur Tea Tree Oil has 100% highest quality Pure & Natural Strong Smell ingredients which Really helpful on Hair Face Hand and foot Nail
2. AMAZING HAIR BENEFITS & MORE: You can mix this with shampoo for shiny hair and a healthy, dandruff free scalp. You can even add it to your children's shampoo to stop them catching head lice. To promote hair growth, add a couple of drops of Grandeur Tea Tree oil to your regular oil and massage it into your scalp.
3. INCREDIBLE SKIN BENEFITS : Thanks to its anti-bacterial and anti-inflammatory properties, this oil helps fight off acne and blemishes, diminishes appearance of scarring and dark spots.it can reduce facial oiliness, and it can even help heal dry, cracked feet. Also helps in Nail Strengthening
4. MOOD ENHANCER : To relax your body and mind, add a few drops of this essential oil into your bathing water. It refreshes your body and the aroma soothes your mind. Also, use it in a diffuser to relax your body and mind.
Steps On Getting This Deal Online:–
1. Visit the Deal Page here      (Apply Coupon Available At The Product Page)
2. Add the Product to Cart.
3. Sign-in or Register.
4. Update or Select your Shipping Details
5. Pay the Amount
6. Enjoy the Product!
(Hurry, Limited Period Offer)