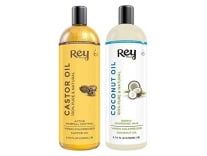 [Apply Coupon] Rey Naturals® Cold-Pressed, 100% Pure Castor Oil & Coconut Oil Combo – Moisturizing & Healing, For Skin, Hair Care, Eyelashes (200 ml + 200 ml) Rs. 280

1. CASTOR OIL – HIGH QUALITY – Our Cold Pressed Castor Oil Is Produced From Hexane-Free Extraction. Only The Best Castor Seeds Are Picked And Extracted By Cold Press To Preserve The Botanical Actives To Retain Highest Quality Grade. 200 Ml Flip Top Cap Bottle Makes It Easy To Use.
2. Hair Type: All; Great for the skin and hair: Rich in vitamins and fatty-acids, castor oil promotes better hair growth and helps nourish and hydrate the skin, 100 percent natural
3. COCONUT OIL – RICH FLAVOURFUL OIL FOR OVERALL NOURISHMENT – Smell the freshness of coconuts as you open the bottle. Benefits for hair : moisturizes as smooth shield, makes your hair shine, nourishes your hair, tames your frizzy hair || Benefits for skin: protects from sunburn, skin moisturizer, soothes inflamed skin, brightens skin
4. Useful for dry & damaged hair: the vitamins and essential fatty acids naturally found in coconut oil nourishes the scalp and helps to reduces protein loss in hair || Wide applications: apply on wounds for quick results in reduction of Marks || apply on body as moisturizer || apply as hair oil
5. Recommended Use : Mix few drops of Rey Naturals Castor oil with coconut oil for best results.
Steps On Getting This Deal Online:–
1. Visit the Deal Page here
2. Add the Product to Cart.
3. Sign-in or Register.
4. Update or Select your Shipping Details
5. Pay the Amount
6. Enjoy the Product!
(Hurry, Limited Period Offer)
Shipping Charges Rs. 40 extra on orders below Rs.499. Subscribe Amazon Prime to get Free Shipping on cart value below Rs. 499.
(Apply Coupon Available At The Product Page)