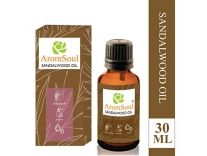 AromSoul 100 % Natural and Pure Therapeutic Grade Sandalwood Essential Oil 30 ml For Healthy Skin, Face, Hair Care, Relaxing Aromatherapy, Soaps, Candles & Massage Rs.450

1. Ingredients:-sandalwood essential oil.all we care about is your satisfaction, and there is no better way to achieve that than providing the highest quality products. Our superb essential oil consists of 100% pure, organic sandalwood oil which is steam distilled. Only the nature's best for your well being
2. Fragrance : Aromsoul pure sandalwood oil is harvested from trees in, India making it the very best. Try using it on as your signature perfume or cologne, or add a few drops to your existing skin, body or hair care products to make them your very own
3. Introduction: this pure essential oil of sandalwood from Aromsoul has a sweet woody scent which evokes a meditative atmosphere. Sandalwood is a holy and revered tree in India because of its powerfully spiritual aroma.Aromsoul pure sandalwood oil is harvested from trees in, India making it the very best
4. Directions of use: diffuse 5 -8 drops in humidifier, diffuser or vaporizer to enjoy the aroma. Add a few drops of this oil to desired carrier oil or unscented lotion and massage on your skin or hair..It can also be diluted with bathing water
5. Benefits of sandalwood oil:
(1)reducing tension:
the soothing aroma of sandalwood oil helps to create a calming and harmonizing effect in the mind.
(2)skin:
it promotes healthy smooth skin as it is high in anti microbial actions and anti oxidants which provide anti aging benefits and helps in hydrating the skin.it is also good for acne
Steps On Getting This Deal Online:–
1. Visit the Deal Page here
2. Add the Product to Cart.
3. Sign-in or Register.
4. Update or Select your Shipping Details
5. Pay the Amount
6. Enjoy the Product!
(Hurry, Limited Period Offer)
Shipping Charges Rs. 40 extra on orders below Rs.499. Subscribe Amazon Prime to get Free Shipping on cart value below Rs. 499.