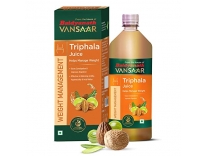 Baidyanath Vansaar Triphala Juice | Helps Weight Control | Constipation Relief | 100% Herbal Juice made with Organic Ingredients – Amla, Haritaki, Bahera – 1L Rs. 110

1. SUPPORTS HEALTHY WEIGHT CONTROL : Triphala, helps clear toxins from the digestive system and helps strengthen the digestive system and regulate metabolism. With better metabolism, it becomes easier to control weight.
2. EFFECTIVE CONSTIPATION RELIEF : Baidyanath Vansaar Tripahala Juice enriched with natural laxatives help cleanse the colon, soothe the intestinal walls and give relief from constipation. Regular intake of this juice helps regulate bowel movements.
3. 100% HERBAL JUICE : Baidyanath Vansaar Triphala Juice is 100 % Herbal juice made of organically sourced ingredients. It is a potent combination of 3 efficacious herbs Amla , Haritaki & Baheda. Amla, contains vitamin C, rich in anti-oxidants & flavanoids and hence helps lose weight. Baheda contains ellagic acid, gallic acid, lignans, and flavones that have anti-inflammatory properties. Haritaki contains terpenes, polyphenols, anthocyanins, and flavonoids and has anti-inflammatory and antioxidant properties that contribute in improving digestive health.
4. AIDS IN DIGESTION & METABOLISM: Triphala is rich in anti oxidants and also contains phytochemicals such as quercetin and gallic acid that promote the growth of healthy bacteria and maintains a healthy digestive system. Including Tripahala juice in your daily routine can help maintain healthy digestion and metabolism.
5. 100 YEARS OF LEGACY AND PRIDE: Baidyanath has been a trusted establishment in Ayurveda for 100 years.
Steps On Getting This Deal Online:–
1. Visit the Deal Page here
2. Add the Product to Cart.
3. Sign-in or Register.
4. Update or Select your Shipping Details
5. Pay the Amount
6. Enjoy the Product!
(Hurry, Limited Period Offer)
Shipping Charges Rs. 40 extra on orders below Rs.499. Subscribe Amazon Prime to get Free Shipping on cart value below Rs. 499.