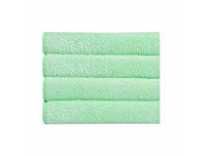 Bathla Spic & Span Multi Purpose Micro Fiber Cleaning Cloth – 340 GSM: 40cmx40cm (Pack of 4 – Light Green) Rs.183

1.Material: Micro Fiber, Color: Light Green
2.No Warranty
3.ULTRA-FINE MICROFIBERS: This product utilises a web of ultra-fine microfiber filaments and a structure of microscopic pores to remove dust, oils, grease and even fingerprints from any surface.
4.SUPER ABSORBENT MATERIAL: The porous structure ensures up to 8x to 10x liquid absorption capacity, making it ideal for any household cleaning requirement.
5.MACHINE WASHABLE & REUSABLE: Each cloth is built from the highest quality materials for extended effectiveness and life. Each can be machine or hand washed and reused multiple times.
6.REMOVES UP TO 98% BACTERIA, 93% VIRUSES: Compared to cotton cloths that remove 30% bacteria and 23% viruses, microfibre cloths are far more effective in cleaning contaminated surfaces.
7.USABLE ON ALL SURFACES: Effective for dusting furniture, wiping kitchen counters, cleaning glassware, polishing and buffing cars and bikes, cleaning screens and electronic gadgets and more.
Steps On Getting This Deal Online:–
1. Visit the Deal Page here
2. Add the Product to Cart.
3. Sign-in or Register.
4. Update or Select your Shipping Details
5. Pay the Amount
6. Enjoy the Product!
(Hurry, Limited Period Offer)
Shipping Charges Rs. 40 extra on orders below Rs.499. Subscribe Amazon Prime to get Free Shipping on cart value below Rs. 499.