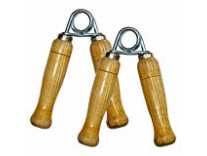 CONSONANTIAM Muscle Developer Hand Gripper (Two Piece) Fitness Wooden Hand Grip,Hand Gripper,Grip Strength Trainers Rs. 189

1. BUILD STRENGTH – This hand grip builds strength in your fingers, wrists, elbows and forearms. It improves dexterity and helps to relieve stress.
2. QUALITY – The Wooden grips on the handles help prevent it from accidentally slipping out of your hand when it gets sweaty. Built with the best quality materials and enhanced spring to endure long-term and frequent use. The spring is heavy duty and securely attached. When in use, it has a smooth and quiet motion.
3. ERGONOMIC DESIGN – The ergonomic design also allows The hand exerciser to provide effective finger, hand, wrist, and forearm workouts. It will provide finger and hand strength to those with hand and finger arthritis, massage therapists, musicians, such as guitar, piano, and violin players, golfers, tennis and baseball players, and anyone wanting a general hand grip exerciser to build grip strength
4. IDEAL HAND AND FINGER EXERCISER AND REHABILITATION EQUIPMENT – Perfect for fitness and sports enthusiasts – bodybuilding, weightlifting, rock / wall climbing, golf, tennis, gymnastics, any sports that involve wrist / forearm coordination and control. Training / strengthening for musicians (guitarists, pianists, violinists) improve dexterity and performance. Best for treatment of patients with hand injuries, tendonitis, arthritis, carpal tunnel, tennis elbow. Accelerates blood circulation.
5. PORTABLE AND LIGHTWEIGHT – The Hand Grip is small enough to fit into your gym bag or handbag. You can get repetitions in while commuting, at the office, at the movies – just about anywhere! WHY IS HAND GRIP STRENGTH IMPORTANT?
Steps On Getting This Deal Online:–
1. Visit the Deal Page here
2. Add the Product to Cart.
3. Sign-in or Register.
4. Update or Select your Shipping Details
5. Pay the Amount
6. Enjoy the Product!
(Hurry, Limited Period Offer)
Shipping Charges Rs. 40 extra on orders below Rs.499. Subscribe Amazon Prime to get Free Shipping on cart value below Rs. 499.