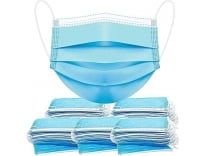 DEEJET 3 Ply Disposable Surgical Face Mask Protective layer (Pack of 100) For Men And Women | Use and Throw Face Masks (Pack of 100) Rs.269

1. Use and Throw Face Masks
2. 3 Ply Disposable Face Masks
3. Face Mask Non-Reusable
4. Fully Covers the entire Mouth and Nose to Avoid any Disinfected-Air
5. This Mask Can be Used For Travel and Commute, Traffic, Cycling, Biking, Security and Personnel, Bus, Car, Public & Hospitals place etc.
Steps On Getting This Deal Online:–
1. Visit the Deal Page here
2. Add the Product to Cart.
3. Sign-in or Register.
4. Update or Select your Shipping Details
5. Pay the Amount
6. Enjoy the Product!
(Hurry, Limited Period Offer)
Shipping Charges Rs. 40 extra on orders below Rs.499. Subscribe Amazon Prime to get Free Shipping on cart value below Rs. 499.