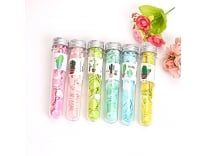 Economical Store 91 Pack of 2 Designer Paper Soap Tube Shape Bottle Paper Soap Clean Soft Bath For Travel, For Personal Hand Washing Disposable Confetti Cleaning (2 Pcs) Rs. 199

1. Portable Disposable Paper Soap Confetti Cleaning Washing Hand Bath Toiletry Paper Soap Sheets Petals Soap Flakes with Storage Tube for Kitchen Toilet Outdoor Travel Camping Hiking
2. Easy to use: take out a piece of paper soap, place soap sheet in palm of your hand, wet with the right amount of water for a few seconds, gently blistering, lather and finally rinse thoroughly with water
3. Portable: pocket size paper soap are perfect for travel, business trip, camping, hiking, BBQ or any outdoor activities, just keep it in your bag for daily use, decontamination, cleaning is a good partner for your health clean
4. Paper Soap uses natural coconut oil and plant essential oils as raw materials, contains active decontamination factors, deep cleansing and decontamination, gently cares for the skin and takes away bacteria.
5. Take out a piece of paper soap. Dissolve with water and gently rub out foam out, finally rinse thoroughly with water. Moisturizing formula makes skin smooth and clean.
Steps On Getting This Deal Online:–
1. Visit the Deal Page here
2. Add the Product to Cart.
3. Sign-in or Register.
4. Update or Select your Shipping Details
5. Pay the Amount
6. Enjoy the Product!
(Hurry, Limited Period Offer)
Shipping Charges Rs. 40 extra on orders below Rs.499. Subscribe Amazon Prime to get Free Shipping on cart value below Rs. 499.