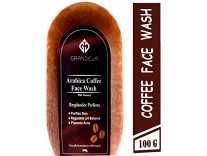 Grandeur Coffee Face Wash 100ml, With Coffee, Moringa Extract And Wheatgerm Oil | Deep Cleansing | Glowing & Smooth Skin | Maintains pH Balance | Rs. 189

1.DEEP CLEANSING : The Face wash that delivers far more than just gentle cleansing. Cleanse Deep Impurities from your skin and improve its texture. Enrich with natural ingredients ,this face wash gently dissolves away layers of dead skin cells and grime.
2.GLOWING SKIN : Get glowing and hydrated skin with Grandeur Coffee Face Wash. Experience skin lightening with the concoction of ingredients that come right from nature!
3.EXFOLIATING CARE : Countless vehicles in traffic, areas under construction, industrial exhausts are making your skin dull & rough. Use our Coffee Face Wash that gently exfoliates deal skin cells and dirt and makes your skin smooth & radiant.
4.PURIFIES SKIN & PREVENTS ACNE : Grandeur Coffee Face wash is enriched with all natural ingredients with goodness of Vitamin E which help in purifying your skin by pulling out all day dirt & impurities resulting in reducing acne.
5.MAINTAINS PH BALANCE : The pH balance of our skin often gets disturbed due to our lifestyles and other reasons. This face wash helps in restoring the pH to normal giving the skin back its health.
Steps On Getting This Deal Online:–
1. Visit the Deal Page here
2. Add the Product to Cart.
3. Sign-in or Register.
4. Update or Select your Shipping Details
5. Pay the Amount
6. Enjoy the Product!
(Hurry, Limited Period Offer)
Shipping Charges Rs. 40 extra on orders below Rs.499. Subscribe Amazon Prime to get Free Shipping on cart value below Rs. 499.