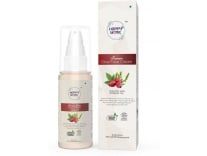 Happy Moms Renew Glow Face Cream – Anti Ageing, Certified Organic, Rosehip oil, Lavender Essential oil – Reduces fine lines, Hyper-pigmentation, dullness and blemishes for Dry Skin, Night Cream – 50 Gms(50 ml) Rs. 179

1. Deep moisturizing, naturally derived. Rosehip oil contains high levels of antioxidants, particularly vitamin C. So it reverses Sun damage and helps in skin repair & nourishes the skin and Repair. Lavender essential oils improve complexion and soothes the skin. It reduces and helps balance the moisture balance in the skin. Rosehip Oil-Deep moisturising, reduces signs of aging like fine lines and dull skin. Hyaluronic Acid-Helps in reverse sun damage, keeps skin looking fresh and glowing. Marine Algae extract-helps lighten hyper pigmentation and blemishes, to keep skin glowing and youthful.
Steps On Getting This Deal Online:–
1. Visit the Deal Page here
2. Add the Product to Cart.
3. Sign-in or Register.
4. Update or Select your Shipping Details
5. Pay the Amount
6. Enjoy the Product!
(Hurry, Limited Period Offer)
Get Free Shipping For Flipkart Plus Members. For non-plus members, shipping charges Rs.40 extra on orders below Rs.500.