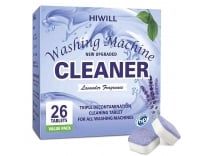 HIWILL Washing Machine Cleaner Effervescent Tablets, Solid Washer Deep Cleaning Tablet, Triple Decontamination Remover with Natural Biological Formula, for Front Load and Top Load Washers 26 Count Rs. 99

1. Triple decontaminationHighly efficient active oxygen, biological enzyme ingredients, triple decontamination ability, remove harmful and stagnant dirt, penetrate and dissolve and remove all odo-r residues that may be generated in washing machines. New upgraded lavender natural biological formula, not hurt your hand, smaller thinner 1 x 1 x 0.47
2. Various applications The washing machine cleaner is suitable for front-loading washing machines, top-loading washing machines, high efficiency (HE) and conventional washing machines, makes your machine in a safe and clean environment.
3. Easy operation Just empty the washing machine. Add 1-3 washing machine cleaning tablets. Then start the complete washing cycle, no need to disassemble the washing machine. Its unique foaming effect allows you to make the housework more convenient and simple while the washing machine cleans by itself.
4. Continuous cleaningIt is recommended to use it once a month to ensure that your machine is fresh and clean, protect your washing machine, avoid secondary pollution to clothes, and protect the health of your family.
5. Buy with Confidence1 year supply, There is a sufficient quantity, Each is individually packaged for your long-term storage. We value customers. In order to prove this, we have a 60-days- Guarantee. can be shared with friends as a gift. HIWILL takes the health of you and your family with every beat of our hearts!
Steps On Getting This Deal Online:–
1. Visit the Deal Page here
2. Add the Product to Cart.
3. Sign-in or Register.
4. Update or Select your Shipping Details
5. Pay the Amount
6. Enjoy the Product!
(Hurry, Limited Period Offer)
Shipping Charges Rs. 40 extra on orders below Rs.499. Subscribe Amazon Prime to get Free Shipping on cart value below Rs. 499.