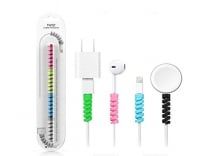 LAPSTER Spiral Charger Spiral Charger Cable Protectors for Wires Data Cable Saver Charging Cord Protective Cable Cover Set of 2 (8 Pieces) Rs.108

1. SPIRAL TUBE CHARGING CABLE PROTECTOR are designed with highly flexible silicone and can be used as phone charger cord protector and phone charger saver to completely protect cables for all devices including, cell phones, computers, laptops, apple / android watches, lightning cables, pc's, the list goes on and on.
2. Besides protecting all Your USB cables / cords, SPIRAL TUBE CHARGING CABLE PROTECTOR feels surprisingly nice and is fun to install on any wires end. Use it as your headphone cord protector or charger cable cover. Simply touching it can relieve your stress too! Yet, even better, the Lightning Cable Protector looks super cool. It doesn't get any better than this!
3. works with virtually all computer and cellphone cables. You can even use it in almost anything like as pet cable protector, chewsafe cord protector, cord protectors from pets, wire protector from pets and as a wire protector tubing for phone and computer cables.
4. Spiral Tube charging Cable protector is your permanent fix to all those damaged lightning cables. It perfectly works as a cable strain relief or a critter cord so you won't have to deal with cable repair or iphone cable repair and frayed wire repair.
Wrap the cable protector onto Your preferred cable as an iphone charger end piece. SPIRAL TUBE CHARGING CABLE PROTECTOR will wrap around any wire just like a protective sleeve would but with more mobility.
Steps On Getting This Deal Online:–
1. Visit the Deal Page here
2. Add the Product to Cart.
3. Sign-in or Register.
4. Update or Select your Shipping Details
5. Pay the Amount
6. Enjoy the Product!
(Hurry, Limited Period Offer)
Shipping Charges Rs. 40 extra on orders below Rs.499. Subscribe Amazon Prime to get Free Shipping on cart value below Rs. 499.