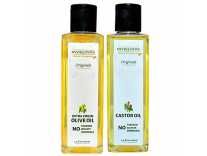 Mystiq Living Combo Extra Virgin Olive Oil and Castor Oil – 100ml each (200ml) | Hair & Skin | Cold Pressed 100% Pure and Natural Rs. 299

1. 100% Natural and Cold Pressed Plant Extract. Free from Paraben, Sulphate, Hexane, Fillers, Mineral Oils. No Artificial Fragrance and Not Tested On Animals
2. HAIR CARE: Mystiq Living's Castor oil is most desirable ingredients in hair care. It act as a natural hair conditioner and treats scalp infections. Extra Virgin Olive oil helps in soothing the scalp and helps prevent and combat dandruff by keeping the scalp moisturized. Olive oil is a great hair tonic that is perfect for dry hair.
3. SKIN CARE: Mystiq Living's Castor oil hydrates & nourishes the skin and a promising agent to treat aging symptoms like thinning skin, fine lins and wrinkling. Olive oil hydrates and nourishes the skin , helps in slowdown skin aging, prevents stretch marks. It also helps to repair the dry and cracked heels.
4. ABOUT MYSTIQ LIVING: Mystiq Living is an attempt to harness the healing power of nature for human well being. Healing properties of plant extracted oils are known to alter our physical, mental and emotional well-being by strengthening our bodies own natural processes. Mystiq Living has brought this nature's magic to you in its purest and un-adulterated form, so that you can recreate harmony with nature, heal and rejuvenate.
Steps On Getting This Deal Online:–
1. Visit the Deal Page here
2. Add the Product to Cart.
3. Sign-in or Register.
4. Update or Select your Shipping Details.
5. Pay the Amount
6. Enjoy the Product!
(Hurry, Limited Period Offer)
Shipping Charges Rs. 40 extra on orders below Rs.499. Subscribe Amazon Prime to get Free Shipping on cart value below Rs. 499.