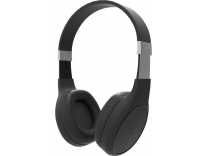 [PreBook From Mobile App]Portronics POR-762 Muffs Plus Wireless Bluetooth Headphone with AUX Port Bluetooth Headset with Mic(Black, In the Ear) Rs. 1099

Connect wirelessly or with AUX Cable in your phone with your favorites Music with Muffs Plus on-ear Headphone. It uses latest Bluetooth 4.1 which works much better with 4G than Bluetooth 4.0 does. This means no interference with mobile 4G signals. Bluetooth 4.1 also conserves battery power much better for longer playtime and also gives "automatic reconnection" to devices which were earlier paired without the need to manually reconnect every time. Also Muffs Plus with Bluetooth 4.1 is backward compatible with mobile phones/ laptops with any lower Bluetooth version. The capabilities of Muffs XT allow for lossless audio quality wherever you go. A built-in rechargeable battery provides 10+ hours of listening, while ear pad mounted controls and built-in mic give you complete control on music and phone calls. Muffs Plus covers a complete frequency range and delivers strikingly realistic sound with 40mm drivers. The foam ear pads create an acoustic seal that blocks outside noises and enhances bass. Range up to 33 feet (10 meters) allows you to remain connected to your music and calls. Simply switch between phone calls and music with the touch of a button. Control volume, play & pause, next & track back directly from the headphone buttons.
Steps On Getting This Deal Online:–
1. Visit the Deal Page here
2. Add the Product to Cart.
3. Sign-in or Register.
4. Update or Select your Shipping Details
5. Pay the Amount
6. Enjoy the Product!
(Hurry, Limited Period Offer)
Get Free Shipping For Flipkart Plus Members. For non-plus members, shipping charges Rs.40 extra on orders below Rs.500.