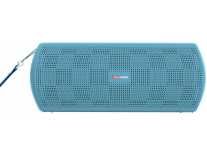 [PreBook From Mobile App]Portronics POR-780 PureSound Plus 6 W Portable Bluetooth Speaker(Blue, Stereo Channel) Rs. 1099

Portronics are happy to launch"PureSound Plus"- a rechargeable Bluetooth speaker with extraordinary clarity of sound and sleek stylish looks. It has 3 x 2W Speakers with great amplifiers offer a powerful and clear sound output at all frequencies and tones – bass, mid-range and treble. Humans can hear sound frequencies from about 20Hz to 20kHz. The basic frequency range of the bass is 40Hz-400Hz and can go up to 4000Hz for bass harmonics. A mid-range speaker is a loudspeaker driver that reproduces sound in the frequency range from 250 to 2000 Hz. Treble refers to tones whose frequency from 2.048 kHz-16 kHz- range is at the higher end of human hearing. The powerful industry-leading size of 2200mAh lithium Ion battery can play music for more than 5-6 hours on a single recharge.
Steps On Getting This Deal Online:–
1. Visit the Deal Page here
2. Add the Product to Cart.
3. Sign-in or Register.
4. Update or Select your Shipping Details
5. Pay the Amount
6. Enjoy the Product!
(Hurry, Limited Period Offer)
Get Free Shipping For Flipkart Plus Members. For non-plus members, shipping charges Rs.40 extra on orders below Rs.500.