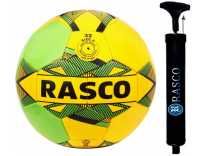 RASCO BRAZIL MACHINE STITCHED FOOTBALL WITH BLACK PUMP 28 CM SIZE 5 Football – Size: 5(Pack of 2, Multicolor) Rs. 356

RASCO BRAZIL football is machine stitched and its good for 6 yrs to 40 yrs. It will come with black pump and its size is 5.
Steps On Getting This Deal Online:–
1. Visit the Deal Page here
2. Add the Product to Cart.
3. Sign-in or Register.
4. Update or Select your Shipping Details
5. Pay the Amount
6. Enjoy the Product!
(Hurry, Limited Period Offer)
Get Free Shipping For Flipkart Plus Members. For non-plus members, shipping charges Rs.40 extra on orders below Rs.500.