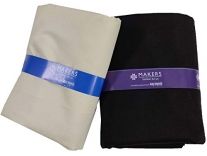 Raymond Fabrics Makers Men's Unstitched Poly Cotton Printed Shirt and Trouser Fabric Set – Gift Pack (Multicolour_Free Size) Rs. 999

1. Box Gift Packing II Original Raymond Makers Fabric Stylish Ready To Stitch Shirt And Trouser Fabric Set From The House Of Makers.
2. Attractive Designs II Fabric : Synthetic Polyblend Viscose
3. Included Components: 1 Shirt Piece + 1 Pant Piece
4. Length: 1.20 Meter (Trouser) + 2.25 Meter (Shirt) Width : 150 Cm (Trouser) + 90 Cm (Shirt)
5. Raymond Makers' Offers An Enticing Collection Of Packs That Make For Perfect Gifts. Celebrate Festivals, Special Occasions And Every Moments With The Gift Pack from Makers. Whether it's A Wedding Or A Birthday Party, There is A Stylish Gift Pre-packed By Makers.This is A Genuine Raymond Makers product. Raymond Unstitched Fabrics For Man And Boys .
Steps On Getting This Deal Online:–
1. Visit the Deal Page here
2. Add the Product to Cart.
3. Sign-in or Register.
4. Update or Select your Shipping Details
5. Pay the Amount
6. Enjoy the Product!
(Hurry, Limited Period Offer)
Shipping Charges Rs. 40 extra on orders below Rs.499. Subscribe Amazon Prime to get Free Shipping on cart value below Rs. 499.