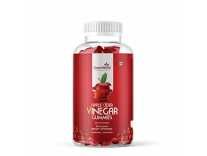 Simply Herbal Apple Cider Vinegar Gummies with The Mother – Gummy Alternative to Apple Cider VinegarJuice, Capsules, Pills, ACV Tablets with Delicious Organic Beet Root Extract Flavor (1) Rs. 499

1.GREAT TASTING APPLE CIDER VINEGAR GUMMIES – Finally all the great benefits of apple cider vinegar in a gummy! ACV in liquid form has a nasty taste and apple cider vinegar capsules and pills can cause acid reflux. Our powerful ACV supplement supports your health, tastes good and goes down easy! We use a natural apple flavor, each serving is packed with 500mg of ACV.
2.FEEL THE POWER OF HEALTH – Traditionally a natural home remedy, apple cider vinegar has become a popular addition to size control plans. Notably, ACV contains acetic acid, which helps kickstart your body to use the fat it has. Supports healthy calorie loss, slim and fit
3.BETTER DIGESTION & DAILY DETOX – Relieve digestion issues, experience more energy, watch your skin clear up and feel as your body detoxes with each gummy bear. Enjoy all of the benefits of Apple Cider Vinegar without the downsides of drinking it. Chewing on gummies is an excellent and easy way to incorporate Apple Cider Vinegar into your daily routine.
4.INCREASED ENERGY & BETTER CIRCULATION – Apple Cider Vinegar promotes improved bodily functions and overall health, cleansing your body and keeping you feeling refreshed! ACV's unique acid profile can help to detox by binding to harmful toxins, which helps eliminate them from your body.
5.TRUSTED QUALITY FROM A TRUSTED BRAND – Simply Herbal never comprises in supplying highest degree quality products which are safe and sound to consume.ACV Gummies are entirely non-GMO, gluten free, and soy free, 100 % Vegetarian . Our product is manufactured in a GMP-certified and FDA-registered facility, and is proudly made in the India!
Steps On Getting This Deal Online:–
1. Visit the Deal Page
2. Add the Product to Cart.
3. Sign-in or Register.
4. Update or Select your Shipping Details
5. Pay the Amount
6. Enjoy the Product!
(Hurry, Limited Period Offer)
Shipping Charges Rs. 40 extra on orders below Rs.499. Subscribe Amazon Prime to get Free Shipping on cart value below Rs. 499.