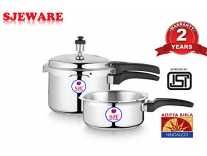 SJEWARE Aluminum Base Pressure Cooker 3 Litre and Pressure pan 2 Litre Combo with Outer Lid, 3 Liters, Silver (ISI), 2 Year Warranty Gas Stove Only Rs. 854

1.🔎 Pressure Cooker 3 Litre With Perfect Capacity For Everyday Use The 5 Litre Capacity Of The Sje Ware Favorite Pressure Cooker Is Perfect For Big Families. The Cylindrical Pot Of The Pressure Cooker Can Double Up As A Cooking Utensil On Its Own.
2.🔎 Easy To Clean And Maintain Pressure Cooker 3 Litres Combo Offer The Pressure Cooker 5 Litres Has Sturdy Build Is Easy To Handle And Maintain. Owing To Its Size, It Can Be Conveniently Stored In Your Kitchen Racks. This Versatile Cooking Utensil Is A Must-Have For All Kitchens And Will Make Cooking Easier And Faster.
3.🔎 Cooker 3 Litres Is Highly Durable Construction With Safety Features Made From High Quality Virgin Aluminium And Featuring Highly Ergonomic Safety Handles, The 5-Litre Sjeware Favorite Pressure Cooker Is Built For Long-Lasting Durability While Providing Excellent Ease Of Use.
4.🔎 Gas Stove Only Not For Induction Cooker & Induction CookwareThis Material Also Enables Even Distribution Of Heat, Leading To Faster And More Efficient Cooking. Featuring A Gasket Release System With Metallic Safety Plug And Precision Weighted Valve, This Pressure Cooker Has Safety At The Forefront While Cooking.
5.🔎 Pressure Cooker With Sturdy Handle Comes With A Strong & Durable Handle That Is Heat Resistant & Provides Firm Grip & Ease While Cooking.
Steps On Getting This Deal Online:–
1. Visit the Deal Page here
2. Add the Product to Cart.
3. Sign-in or Register.
4. Update or Select your Shipping Details
5. Pay the Amount
6. Enjoy the Product!
(Hurry, Limited Period Offer)
Shipping Charges Rs. 40 extra on orders below Rs.499. Subscribe Amazon Prime to get Free Shipping on cart value below Rs. 499.