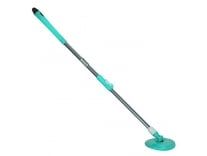 Winberg ® Bucket Mop Rod 360° Spin Rod Stainless Steel Rod Stick Rotating Pole by (Random Colour) Glitter Collection snglrodset11 Rs.225

1. Now available new design with locking system EASY TO USE: With a handle-twist and release locking system, this replacement pole handle is perfect for your new or used spin mop – Comes in three easy to assemble parts!
2. PUSH & PULL: Uses a built in hand-press/pump-action spring mechanism for press-type/non-pedal buckets – Loosen the handle to spin the mop and then tighten the handle to start wiping your floors!
3. Dish Size : 16 Cm , Stick Size : 48 inches (4 feet ) Colour : Blue ,Red,Green COMPACT FOR STORAGE: With its release and locking system, this product can be shortened for space saving and easy storage around your home
4. Easy to use with standard size bucket not for Extra large bucket , It has a hand-press to spin dry,Handle is bendable up to 180 degree,Powerful spin basket dries efficiently,Saves water and no electricity required
5. NOTE: Microfiber/Cloth mop heads are not included with the handle and are sold separately , For Warranty Replacement Buyer need to send product back on invoice address .One side courier charges buyer have to bear .
Steps On Getting This Deal Online:–
1. Visit the Deal Page here
2. Add the Product to Cart.
3. Sign-in or Register.
4. Update or Select your Shipping Details
5. Pay the Amount
6. Enjoy the Product!
(Hurry, Limited Period Offer)
Shipping Charges Rs. 40 extra on orders below Rs.499. Subscribe Amazon Prime to get Free Shipping on cart value below Rs. 499.